If you are looking for high quality, easy to install gutter guard system, then we have the product you want. Perfect for the home builder, roofing tradesman or suppliers of home hardware.
AUSTRALIA'S MOST ADVANCED GUTTER GUARD SYSTEMS
Introducing Australia's most advanced gutter guard. It is designed and patented by QEMCO, with a range of beneficial features, unlike any other product. This unique gutter guard system provides superior features, resulting in a longer-lasting, easier to install gutter guard system. We have also made it visually appealing and ultimately, a cost-saving outcome for you and your clients.
PRE-PROFILED TO SUIT DIFFERENT ROOF TYPES
QEMCO manufactured gutter guards have a unique shape. They are pre-moulded, which means that they fit directly onto different roof types. Simply order the shape that suits your roof type. Our gutter guards are shaped to suit the following options, which you can see in our gallery pages.
There are more details on all of the profiles that you can view at the bottom of this page.
EMBER MESH OR STANDARD MESH
You have the option of choosing between a standard 4mm mesh or a 2mm ember mesh. Both are specially designed for bushfire-prone areas. The ember mesh complies with AS 3959:2018. This means you can feel safer in the event of a bush fire.
STYLISH COLORBOND® – AVAILABLE IN 22 COLOURS
QEMCO manufactured gutter guards look as good as the roof itself. They are made from Colorbond and are available in a range of 22 colours. This means the gutter guards look like part of the roof, rather than an add-on. They not only look as good as the roof, but they're also just as strong! We can supply a wide range of Colorbond gutter guards to suit your needs.
SAFETY & CERTIFICATION
When you choose a QEMCO manufactured expanded steel gutter guard, you are getting the best. Our gutter guard is compliant under the Australian standard of AS 3959:2018 of the Building Codes of Australia. We are one of very few which meet the required standards. Our products are durable, Australian gutter guards. They are manufactured under an internal quality management system in accordance with ISO 9001. We are proud to say that our gutter guards are the most advanced in Australia.
THE RIPPLE EFFECT
We all know that rainwater flows from your roof to your gutters. With our gutter guard, however, the invisible skin which allows water to flow as a single mass is split by the steel mesh. This helps drop the water into your gutter faster. Meanwhile, the direction of the mesh makes unwanted leaves and debris slide freely across. Keeping your gutters cleaned.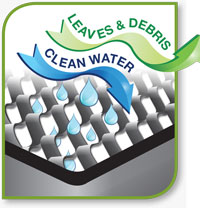 WATER BREAK (Ember Mesh Products)
There are many other Ember Mesh products promoted by companies who simply install their mesh upside down, with hole openings to the roof. This simply traps debris. Our uniquely designed Water Break ember mesh, stops the water sheeting over, allowing it to drop into the gutter.
EASY INSTALLATION
QEMCO gutter guards have been designed and manufactured for ease of installation.  On-site, you simply lay down the contoured steel lengths and then screw them in place. Some clients like to silicone the edges to seal them, but that is optional. This makes our system the most efficient and cost-effective installation system on the market.
BUY DIRECT FROM THE MANUFACTURER & SAVE!
You can buy gutter guards direct from QEMCO if you are located in most parts of Australia. In some areas, we have a licenced dealer who can provide the same level of service we do. This allows you to save money if you're a DIY builder. It can also make it easier to increase your margins and profit if you're a business selling to your customers. For affordable, quality gutter guards, order from QEMCO. You can call us, or send an enquiry for a quote by email.